The MT actuator, standard construction with proven quality
Our full line of pneumatic control products, including our industry recognized rack & pinion actuators type MT, provide cost-effective solutions for the most complicated flow requirements, including diverting and multi-port flow applications across a wide array of industries. Our patented adjustable dual-travel stops provide the greatest degree of control in the industry at ±10 degrees on each end of the stroke.
17 model sizes, both in double acting and spring return.
Offered output up to 5.000 Nm.
Conformity according ISO5211, DIN3337, VDI/VDE 3845, Namur.
Standard rotation 90°, other upon request.
Also available in stainless steel, the SS Series actuators take corrosion resistance to the extreme with all of the great engineering features that set us apart from the competition.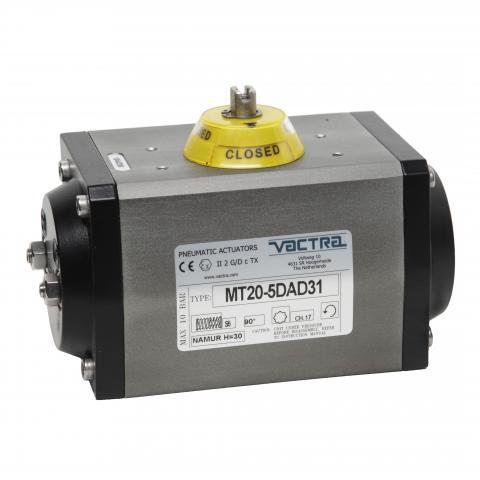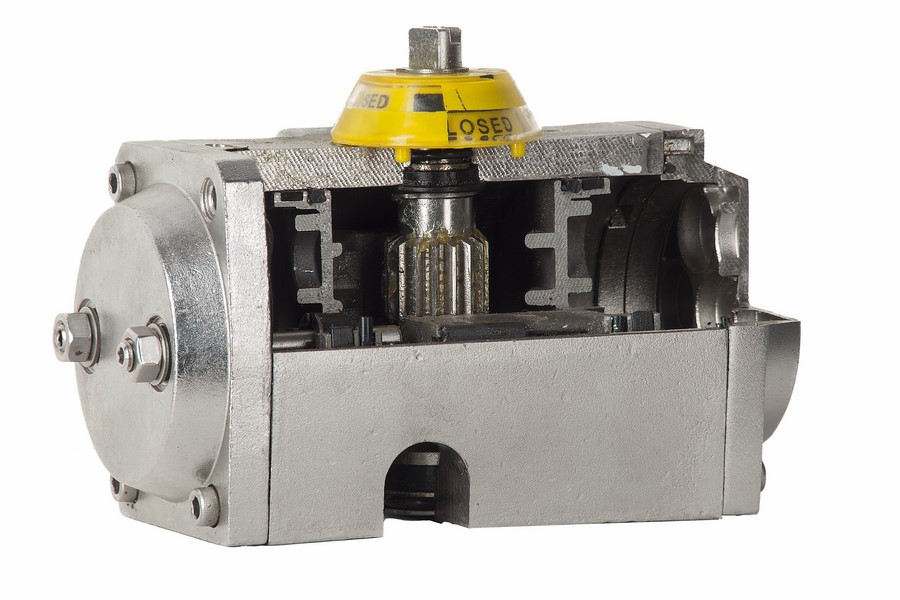 The Camtorc Actuator, a Problem Solver with a Robust Design
As well as rack and pinion actuators VACTRA also supplies the Camtorc range of pneumatic and hydraulic actuators. The Camtorc range provides more of an actuator than meets the eye! The robust design and simplicity results in an actuator range that has a successful and proven track record for over 40 years.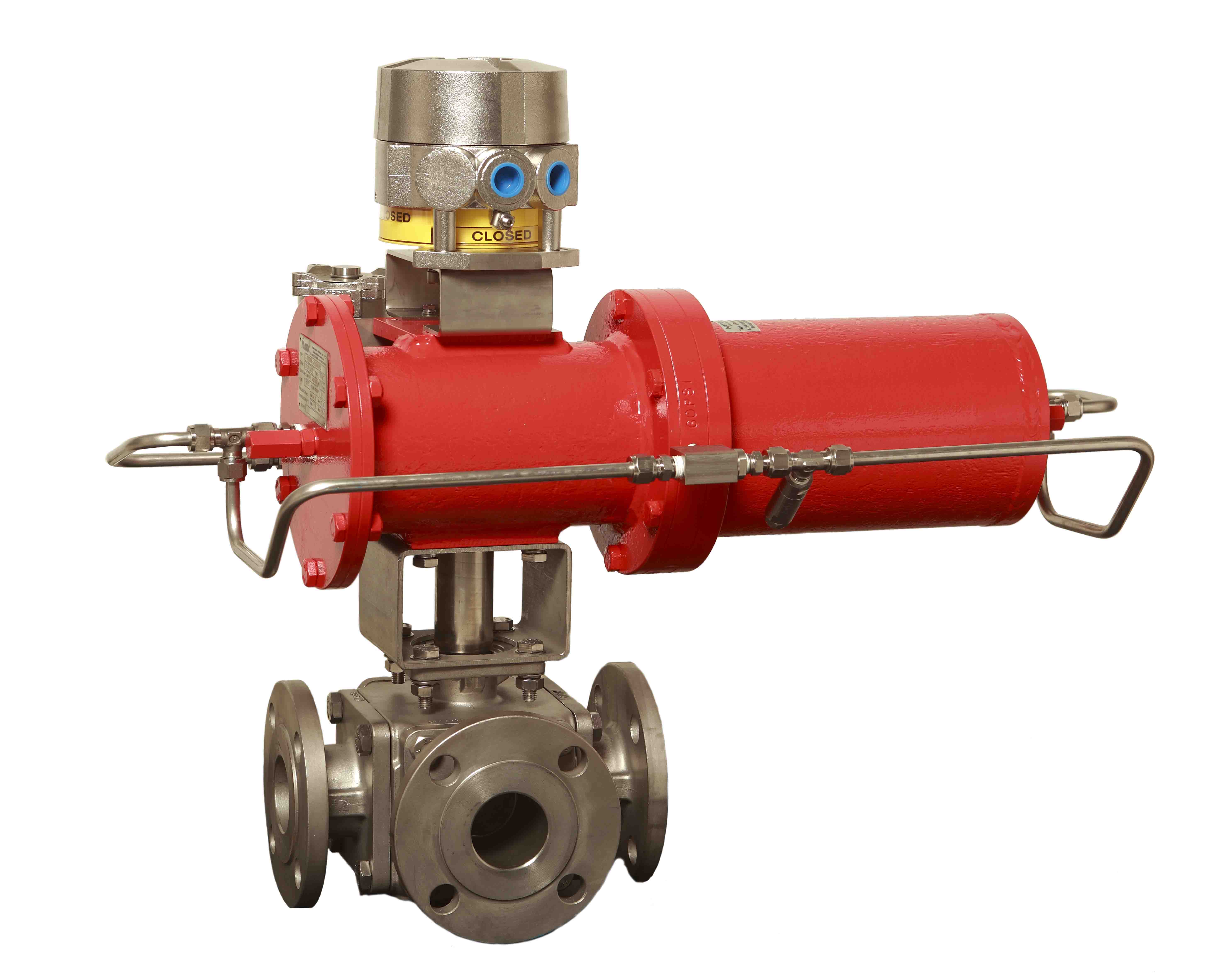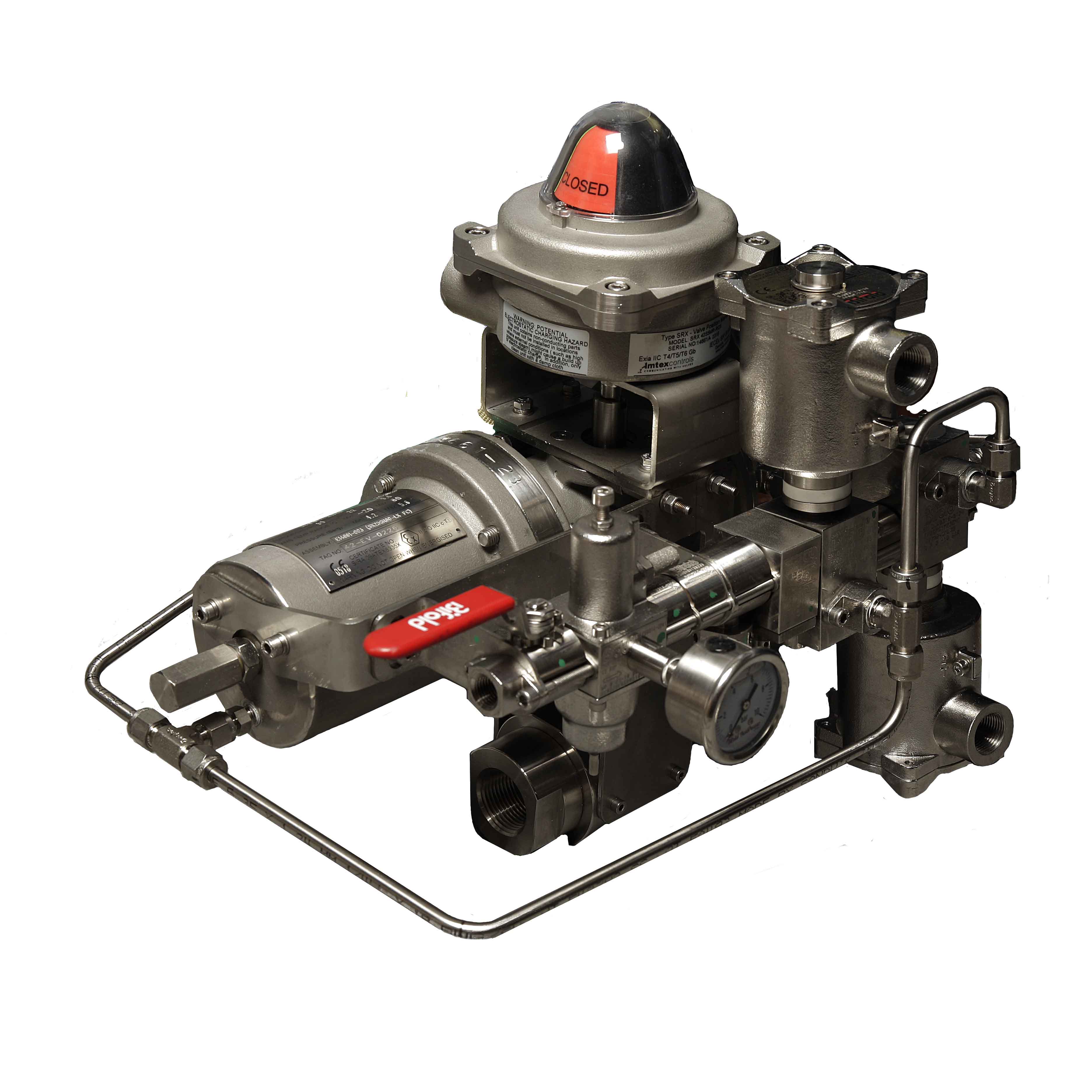 The unique characteristics can be summarized as follows:
Simplest Mechanism Available : Complex assemblies required to dissipate the high side loads generated by Scotch Yokes are totally eliminated
No Side Forces : Providing an extended life of seals and components
High Integrity Construction : Camtorc actuators do not utilise cast iron for any components
Compact Design : Type S (steel) and type SX (stainless steel) standard construction pneumatic actuator uses the same body size for double acting and spring return, version, offering considerable space saving when compared to "equal" torque scotch yoke actuators
Chambered Cam Mechanism : Zero back lash
Self Contained Pressurised Spring Cylinder : Air output torque not affected by spring force. It saves 60% space compared to scotch yoke actuators, especially when your valve has a high running torque.
Inherent Safety on Partial Stroke Test Systems : The self contained pressurised spring cylinder combined with patent pending control system prevents a spurious trip when initiating a partial stroke test (PSTS).
Whole Life Cost : Exceptionally low wear, maintenance and initial competitive prices, Camtorc actuators provide best value for money and low cost of ownership.
If you need to solve a valve actuator problem. Please contact our sales team at +31-164 630 360 or info@vactra.com for more information.
Inherent Safety on Partial Stroke Test Systems
A summarized explanation of our unique feature:
(1) Port A and C are pressurized and the valve is actuated. Port B is the pneumatic breather port for the centre body.
(2) When initiating a partial stroke test with our patented pending control system the spring cylinder will be depressurized through port C and port A remains pressurized.
The spring will decompress, however the instrument air pressure in the air cylinder supplied by port A will function as a pneumatic break thus preventing the actuator closing fully.
A spurious trip is not possible.